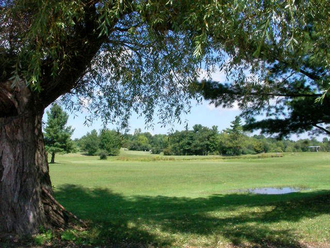 Hillcrest Golf Course was built in 1961 by the Palazini family. The 9 hole 36 Par course is nested on 50+ acres in Duanesburg NY. It was originally designed with a slightly different layout, with 3 ponds and a beautiful scenic view looking east into Albany, Schenectady and Troy.
Open to the public
No tee times
7 days a week, 7AM to dusk, weather permitting

---
Hillcrest Golf Course, "Fast, frugal and fun" - Bob Weiner, Daily Gazette Sports Writer

**GOLF LEAGUES WELCOME**
Hillcrest Golf Course has openings available for golf leagues. Are you looking to create a new league or move your existing league to a new course? If so, please contact us for discounted greens fee prices and additional information.
Our clubhouse was originally a one room school house in the late 1800's. The Princetown Reformed Church organized their in 1921. The buildings frame still stands in the center of the clubhouse. There is a bar and grille inside which serves a fine assortment of wines, beers, liquor and food. We have lunch and drink

specials

along with

discount

golfing throughout the year. Give us a call to set up your next fundraiser or golf outing.
3428 Giffords Church Rd
Duanesburg, NY 12056
518-355-9817
golf@hillcrestgolfcourse9.com